peau'rosität – solo improvisation

Naïma Ferré – concept, performance
Robert Jan Liethoff – coaching
Sunniva Vikør Egenes – choreographic support

The roots of this solo lies on the entanglement of my experiences both as a contemporary dancer and as a life model. For more than 15 years, both of these activities have collaborated within me like a two-voiced song, supporting and ceaselessly completing each other.
In both practices, my focus lies on a constant search for honesty. I approach honesty as a place where physicality and emotions are aligned, working together, serving and enhancing one another.

"There is a human-being on stage, a woman, dealing with being exposed: how "being seen" affects her, what happens to the posing or the moving body if we can't hide ourselves? What kind of movement is hidden behind the posing form? What forms come out of the movement?
Which one from the movement or the pose serves more the process of "being transparent"?
Working within this context of posing, the performer's intent is to explore beyond this frame, seeking for the inner physical and emotional life and spirits of the poses in order to make it visible, looking for transparency of showing herself on stage on "all levels of her being": physical, emotional, mental…
From humanities to animalistic figures through living sculptures, this piece is an invitation to share her inner world."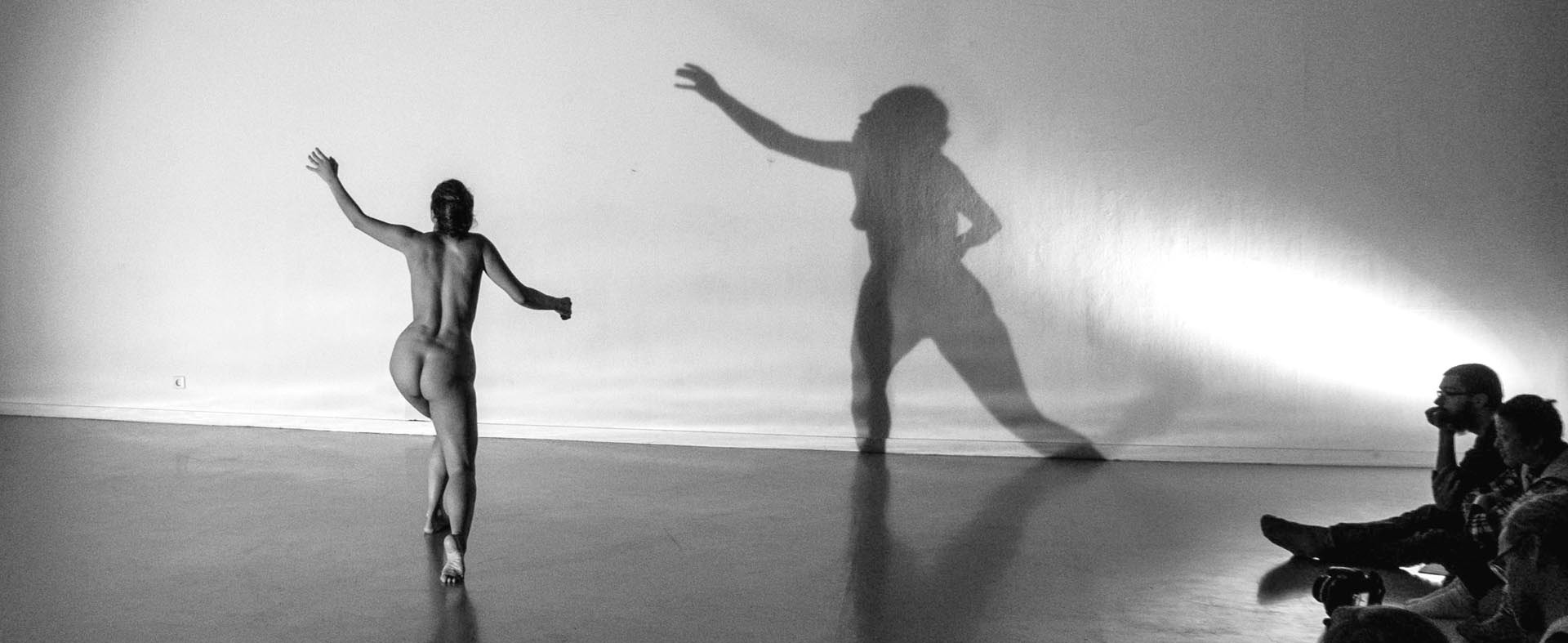 © luca s. (at studio 2/ mime centrum berlin)
Naïma Ferré
As a contemporary dancer and performer based in Berlin, Naïma Ferré focuses on exploring the relationship between body and mind. Mostly through solo dance improvisation – largely influenced by the work of Rosalind Crisp, Naïma also pushes the limits of this exploration through her life model activity – particularly in her organisation of the « Carte blanche für dasModell » evenings – and looks for new spaces within this relationship through whirling – dervish dance.
She works in several performance-installation like Akt by Judith Hummel (Munich, 2014-15), Fluids by Alexandra Pirici (Berlin, 2015) and re-perfomed Luminosity by Marina Abramovic and Mirrorcheck by Joan Jonas in the frame of 12 Rooms (Festival Ruhr Triennale, Essen, 2012) and 14 Rooms (Art Basel, 2014).
As a dancer she works with Isabelle Schad for the projects Volkstanzen Heute and Collective Jumps (Berlin, Poznan,… 2014-2015), and develops her soloPeau'rosität (2015) focusing on the relation between movement stillness through the representation of the self.
Naïma has past and ongoing collaborations in Berlin with several dancers and musicians, including the plattform for dance improvisation (Imprévu, Petunien), Paul M Waschkau, Dr Nexus, Anne Zacho, Elma Riza, Eva Burghardt, Klaus Janek, Sebastian Flaig.
She collaborates since 2014 with phyla (Gisbert Schürig and Jennie Zimmermann) to research around minimal improvisation and whirling throughout different forms : monthly whirling atelier (Bethanien, Tatwerk), nights of whirling (Take off, Bethanien, Acud) and performative research (Minimal improvisation, Greenhouse, Lake Studio).


Saturday, 25 March
20:00 sharp | with artist talk
Studio 2 – Mime Centrum Berlin | Mariannenplatz 2 | 10997 Berlin
donation