direction
Bettina Neuhaus, Ursula Sabatin
dance
Paolo Cingolani, Bettina Neuhaus, Blaise Powell, Ursula Sabatin
music by Parak.eets
Emilio Gordoa (vibraphone/objects), Richard Scott (electronics), Ute Wassermann (voice/birdcalls)

'plot'  is rooted in combining accuracy with a strong willingness to experiment and brings the two disciplines of dance and music in their specific languages of image and sound closer together, intensifying their relationship.
By drafting, designing and building through sound and movement, the performers create temporal and spatial counterpoints that challenge one's sense of duration and spatial configurations.
The ephemeral nature of the live performance, high speed of decision-making and action and unexpected twists and turns in the performers' game stimulate a participatory way of watching.
tanzufer.at
parak-eets.weebly.com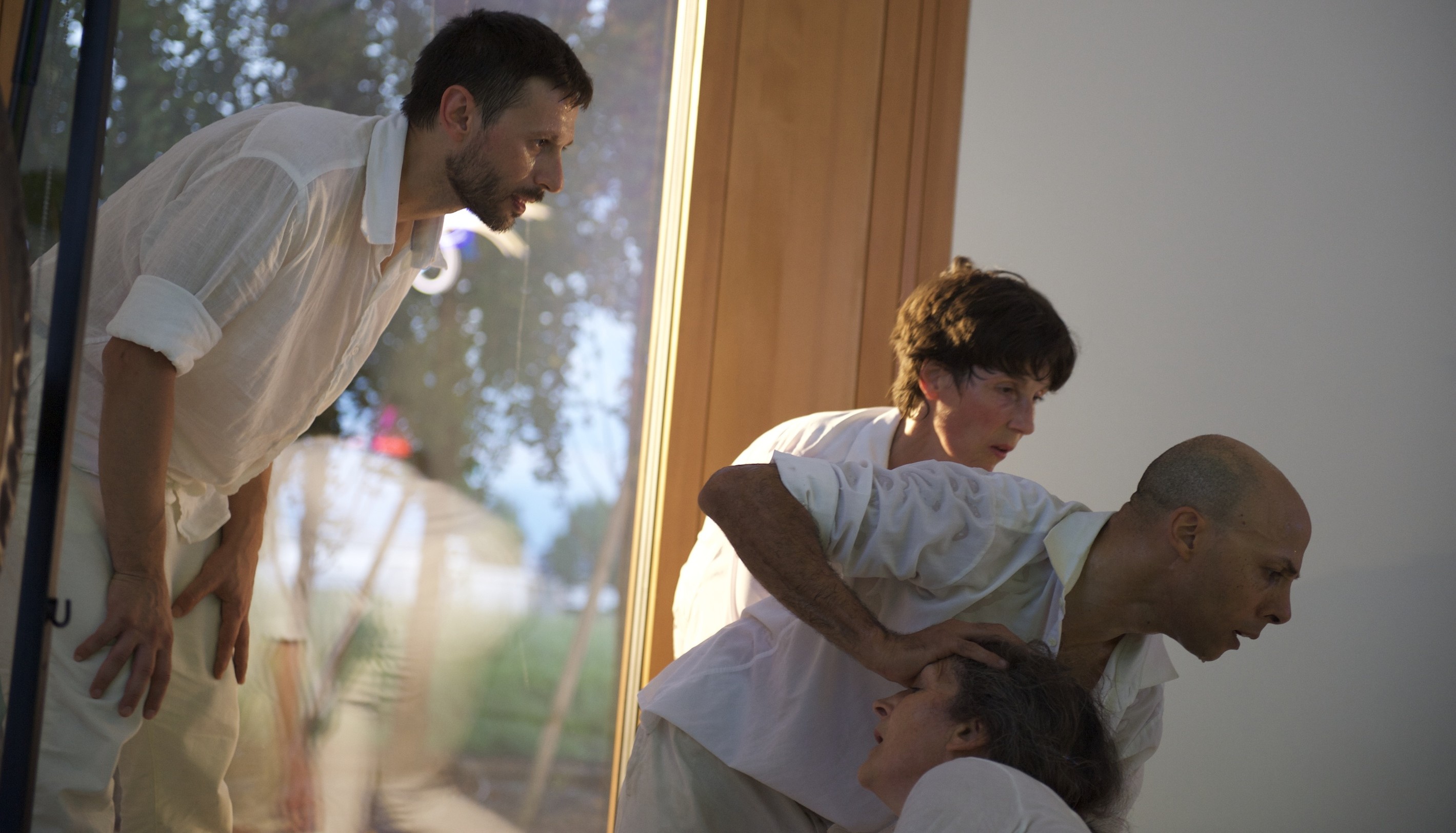 photo by melanie büchel

Bettina Neuhaus, dance artist, director and researcher, based in Amsterdam has been working in the field of performance internationally for more than 25 years, collaborating with performers, musicians, visual artists, poets and philosophers.
In addition to her work as prominent improviser she creates performative installations, site-specific performances and lecture-demonstrations.
Bettina is a certified Skinner Releasing Teacher and holds a MA in Creative Practice Dance at Trinity Laban Conservatoire of Music and Dance in London. She teaches SRT and Instant Composition extensively at major academies, festivals and studios across Europe and South America. Her recent artistic work includes collaborations with Eva Karczag, Vanessa Grasse, Sharon Stewart and Ursula Sabatin, with whom she initiated in 2014 TanzuferInternational, a performance platform for dance and music.

Ursula Sabatin is an independent dance artist and artistic director of Tanzufer based in Bregenz, Austria. She studied dance at Konservatorium Vienna University. For several years she has been travelling throughout Europe and the U.S. studying choreography and composition with eminent international artists in the field of contemporary dance. Her work focuses on live performance and collaboration with music, calligraphy, photography and film.
Since 2005 she continually creates work for her own Company Tanzufer, including site-specific performances.
The last piece in collaboration with Bettina Neuhaus / TanzuferInternational was presented in Austria, Germany and the UK.
In 2016 she created and performed 'Anwesenheit', a highly-regarded solo performance within 'Night and Fog', a sound installation by Susan Philipsz with music by Hanns Eisler at the Kunsthaus Bregenz.

Paolo Cingolani is a dancer and movement trainer based in Ancona, Italy.
After having completed a degree in Anthropology in 2004 he continued his training in martial arts, Tai-Chi and Qi Gong and studied dance, contact-improvisation, release technique and choreography.
As a member of Allen's Line, the company of Julyen Hamilton, since 2012, Paolo performed in numerous productions presented in Berlin, Brussels, Paris, Strasbourg and Oslo. In recent years his work focuses on Instant Composition in collaboration with dancers, musicians and visual artists. He has developed a personal body technique integrating Tai-Chi with other principles of contemporary dance and is teaching at various festivals of dance improvisation in Europe as in the US.

Blaise Powell is a dancer based in Marseille, France.
As a former researcher in mathematics, he started performing for numerous circuses traveling through Europe before training in contemporary dance, contact improvisation and acting.
He worked intensively on instant composition, particularly with Julyen Hamilton.
Blaise's artistic work comprises dance performances, improvised theatre and clownery, often in collaboration with other performers and musicians. His pieces are often site-specific and are presented in cities such as Paris, Amsterdam, Porto or Istanbul at numerous outdoor locations. Blaise is a member of Emir, an improvisation collective under the artistic direction of the American double bass player Barre Phillips; he is recently collaborating with saxophonist Laurent Charles.

Richard Scott is an electroacoustic composer and free improvising musician living in Manchester and Berlin. He is working with analogue modular synthesizers and alternative controllers such as his own self-designed WiGi infra red controller developed at STEIM, the Buchla Thunder and Buchla Lightning. He has been composing and performing improvised music for over 25 years, recently performing with artists such as Evan Parker, Jon Rose, Richard Barrett, Thomas Lehn, Twinkle3, Axel Dörner, and Grutronic. His music has been performed for the BBC Radio 3 and 4, the International Computer Music Conference London and the Jazz Festival Bratislava. 1993 Richard Scott received an award PhD at the University of London.

Ute Wassermann, composer, performer, sound artist and improviser is known for her extraordinary, many-voiced and extreme vocal sound language, which she has brought into experimental/contemporary music in diverse ways. She has developed techniques to "mask" the voice using birdcall-whistles, palate whistles, speaker objects, resonators. She is interested in the area between composition and improvisation, music and performance art.
She has performed as a vocal soloist in contemporary and experimental music in festivals, galleries and clubs throughout Europe, Australia and Asia. Premieres of numerous works by composers have been especially written for her voice and she has performed with different bands and ad hoc with musicians such as Birgit Ulher, Phil Minton, Thomas Lehn, John Russell, Raed Yassin, and Les Femmes Savantes. She has received several grants like a residency at the Civitella Ranieri Foundation in 2015.

Emilio Gordoa is a Mexican composer and vibraphonist based in Berlin since 2012. He creates work as a soloist and in collaboration with theatre and dance. Emilio's special focus lies in sound art, experimental music, noise, free jazz, improvisation and contemporary music.
He is redefining the vibraphone as a source, treating it with preparations and extended techniques; as a composer he writes graphic scores for a variety of ensembles, for theatre productions, documentary films and audio-visual media. Emilio has been performing with the Berliner Improviser Orchestra and artists such as John Russell, Tristan Honsinger, Axel Dörner, Tony Buck, Tobias Delius, Ignaz Schick and Ute Wassermann. Some of his recent projects are: soel, Parak.eets, Kepa chotti, and MOvE.

With the support of www.tanzufer.at


22 October | Mime Centrum Berlin | Studio 2 | Mariannenplatz 2 – 10997 Berlin
20:00 | with artist talk | theaterscout: Despina Kapetenaki
in the scope of Theaterscoutings Berlin | an offer of Performing Arts Programm Berlin