photo by jagna anderson
p.u.r.e. – performative urban research ensemble
The city performs itself.
The act of walking is to the urban system what the speech act is to language or to the statements uttered.
Michel de Certeau, The Practice of Everyday Life, 1984

p.u.r.e. – performative urban research ensemble emerges out of the performance project Görli Dreamin' to go further and deeper with this line of work.
We are a collective of interdisciplinary artists focussing since August 2015 on the concept of urban ecology of sound and movement.
We perceive the city as a performative process in which we are all taking part. The urban space is being produced by these performative acts.
As researching artists instead of aiming an arbitrary creation, we are concerned of what is there – a complex system of ephemeral relationships between structures and actions. From there the improvisation can unfold, oscillating between cognition and creation.
Our fundamental research resource is the practice of city walks, an extended multisensorial version of a sound walk, which becomes also an urban-performance approach. The richness of this practice of experiencing urban space has inspired us to open it to external participants.
Read more and find a documentation of the previous walks at https://purewalks.wordpress.com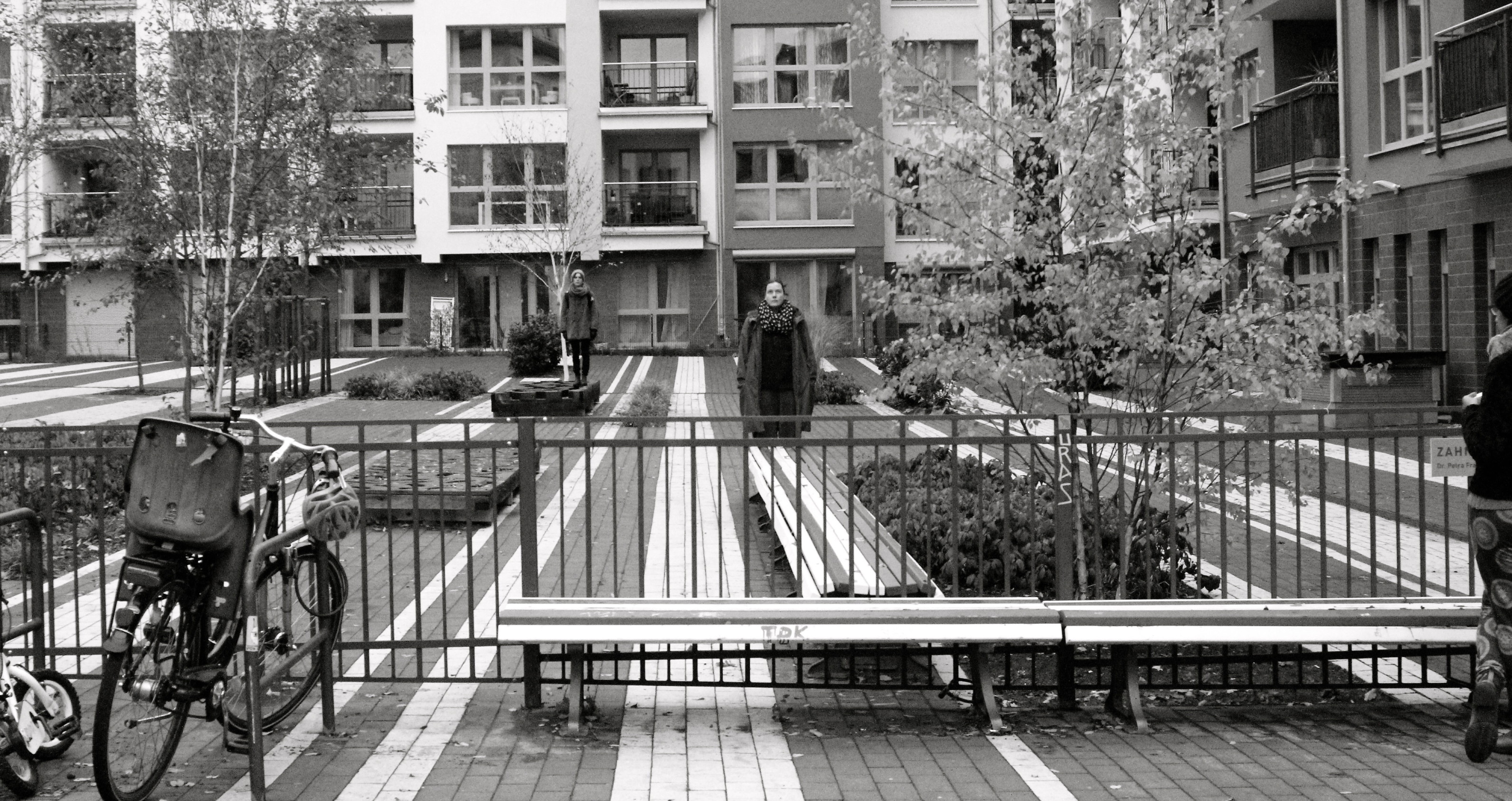 p.u.r.e. walks are participatory site-specific performances, opening new insights into the urban space and sound. A p.u.r.e. walk involves
• opening all senses equally: sight, hearing, touch, smell and proprioception or kinaesthetic awareness

• exploring the borderline between perceiving and performing, between witnessing and creating

• exploring the peripheries and the centres, the ordinary and the exceptional taking place in urban experience

Read an interview with Jagna Anderson in German

Regular p.u.r.e. walks are taking place since August 2016.
Please find the dates here
Further information and booking: pure (at) impro-per-arts.de

read also about our project
URBAN POLYCHROMIA
Some selected readings:
Sophie Wolfrum, Nikolai Frhr. v. Brandis (Eds.): Performative Urbanism. Generating and Designing Urban Space, Berlin 2015
Marianne Bäcker, Mechthild Schütte (Eds.), Tanz – Raum – Urbanität, Leipzig 2015
Gabriele Klein, Choreographien des Alltags. Bewegung und Tanz im Kontext kultureller Bildung, www.kubi-online.de, 2013
Klaus Schütz, Urban Performance. Performance in der Stadt/ Stadt als Performance (Kunstforum. Urban Performance I. Vol. 223/ 2013), pp. 36-47
ringgespräch über gruppenimprovisation – Theorie und Praxis improvisierter Musik, LXXV/April 2012, Thema: Raum
Christopher Dell: Replaycity. Improvisation als urbane Praxis, Berlin 2011
Paolo Virilio, Philippe Petit, Cyberwelt, die wissentlich schlimmste Politik, Berlin 2011
Francesco Careri, Walkscapes. Walking as an Aesthetic Practice, Barcelona 2002
Marina Löw, Raumsoziologie, Frankfurt/M. 2001
Michel de Certeau, Kunst des Handelns, Berlin 1988/ The Practice of Everyday Life, Berkeley 1984
R. Murray Schafer, The Soundscape. Our Sonic Environment and the Tuning of the World, New York 1977
Henri Lefebvre, The Production of Space, Blackwell Publishing 1991 (1974)
Guy Debord, Theory of Dérive, Internationale Situationniste #2 (1958)